Convection heater that runs on gas or oil for a high-quality basic solution with reliable performance
Safety is a high priority for Siroc Turbo. For example, there are LED lights to indicate the status and any defects, so you can identify the cause of a problem immediately. The list of built-in safety checks can be consulted on this page.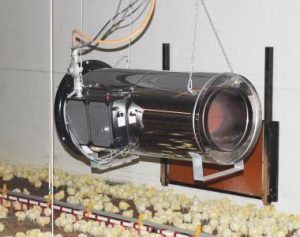 Features of Siroc Turbo cannon heater
Energy efficient space heater with top results
100 % efficiency
advantages of running Siroc Turbo on gas
advantages of running Siroc Turbo on oil
All the heat generated is used to heat the space
No outflow of combustion gases.
High-quality materials stainless (chromium alloy) steel
to guarantee a long lifespan, even with intensive cleaning.
Protected against dust and water
the electronic components are housed in a protective IP65 junction box. The burner controls and the gas valve also have an IP value of 65, which means you can use a pressure washer for cleaning.
Open, inspect and clean in the interior