Convection heater that runs on gas for optimal heat distribution in tall poultry houses
You create a healthy living environment for your chickens because the emissions from the combustion — CO, CO2 and condensate — are carried away through a chimney. Due to the high quality of indoor air, you need less ventilation. The litter also remains dry, which is good for the health and animal welfare of the chickens.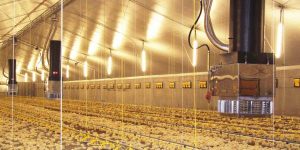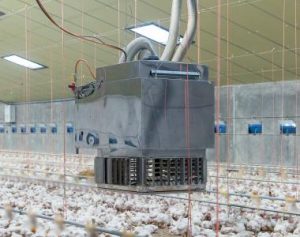 Features of Siroc Sterling space heater
homogeneous heat in a tall house (from 4.5 meters – 148 ft)
double-walled chimney with heat exchange
92 % of the heat remains indoors
Vertical, uniform heat distribution
Healthy microclimate for chickens = better results
No CO, CO2 and condensate
the chimney carries away the residual CO, CO² and condensate from the closed combustion process. This means you need less ventilation to keep the indoor air clean, dry and low in ammonia. Siroc Sterling therefore improves the condition of the litter. The health and animal welfare of your poultry is improved.
Oxygen-rich living environment
the oxygen in the house is not used in the combustion process.
High-quality materials stainless (chromium alloy) steel
to guarantee a long lifespan, even with intensive cleaning.
Protected against dust and water
the electronic components are housed together in a protective IP65 junction box which means you can use a pressure washer when cleaning.
Quiet
the air guide ring on the suction fan results in an efficient air supply.
Open, inspect and clean the interior
the inspection hatches on 3 sides make it very easy to access the heating appliance.
Winchable heating
create space when clearing and cleaning a house. You can hang the space heater back at the correct height at the start of a new flock.
Safe and reliable space heater for poultry
gas supply monitoring and checks prior to ignition
an ionization protection cuts off the gas supply if the flame extinguishes or if the appliance does not ignite.
prevents overheating
a maximum thermostat prevents the appliance from overheating.
Want to find out more about the Siroc Sterling space heater? Contact Kalvet Agro Links