Corrosion resistant fans for better performance and higher efficiency
The Oxsano™ tunnel fan contains a highly innovative motor with direct drive and variable speed. This new motor reduces energy consumption like no other. It is a black fan in fiberglass with impressive results.
Features of Oxsano tunnel fans
Choice between variable or constant speed
New and tried-and-true technology
the Oxsano tunnel fan with variable speed is innovative technology. Variable means that the fans adjust their speed to the required ventilation capacity, which reduces energy consumption. If you opt for a combination with the tried-and-true technology, there is also a wide range of fans with constant speeds to choose from.
Choice between direct drive or belt drive
Fan blades with direct drive or belt drive
though our traditional range of fans with a belt drive system work great, our latest tunnel fans have direct drive which makes them more powerful. The sleeker design without a belt requires little maintenance and makes the fan ultra quiet.
Choice between high efficiency or high capacity
High-efficiency tunnel fan
this fan, with its unique design, focuses on economical energy consumption. The investment quickly pays for itself in a lower energy bill.
High-capacity tunnel fan
in a house, high-capacity fans allow you to reduce the initial investment cost. When purchasing, you bundle the ventilation needs in a number of powerful appliances. The energy consumption is within modern standards.
Butterfly doors improve performance
the fan pushes the two butterfly doors open, which results in a large amount of air extraction in one go. Magnets hold the doors open, even in strong winds. When the doors are closed, drafts and light cannot penetrate.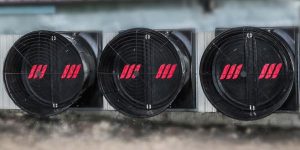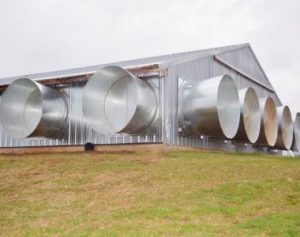 Discover our ventilation range for houses
Roxell offers the following total ventilation solutions for poultry and pig houses:
Oxsano fans – available from 14" to 55" (from 36 to 140 cm)
Evaporative cooling system – Cools the air by evaporating water. Easy to install in practically any type of housing
Winching – For smooth maneuvering and tilting of vertical frames (curtains), air inlets and tunnel doors
Air inlet valves – Robust, galvanized steel constructions
Want to find out more about the range of Oxsano fans? Contact Us