Make the most of your floor space with a space-saving feeding system
A feeder pan prevents selective feeding and an unbalanced feed composition, a common problem in chain feeders.
Compact, yet highly efficient. Let us introduce you to LaiCa.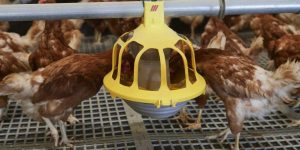 Features of the LaiCa feeder pan
Twice as much feeding space than a chain system
Unobstructed feeding line
the oval pan offers the most number of feeding points per running meter. Your layers have fewer difficulties to get to their nest and have more room to run around. Feeding points are also spacious. That's what makes Roxell systems different. We would be happy to show you how LaiCa is twice as efficient than a chain feeder in terms of space.
Balance feed composition for every chicken
Patented, stepped feeder pan
prevents selective pecking and spillages. Because to achieve the best egg production, you need to have the right feed composition. With LaiCa, hens get the feed that they need.
Animal welfare
ANIMAL-FRIENDLY PERCH GUARD SYSTEM FOR THE FEEDER PAN
a perch guard profile discourages hens from sitting exactly above the feeder pan. The rest of the feeding tube can be used freely for perching.
Floor housing or organic egg production
the LaiCa automatic pan feeding system is designed for poultry farms with a barn, free range, or organic egg production set-up.
Suitable for layer breeders
the LaiCa feeder pan is highly suitable for feeding layer breeders.
Want to find out more about LaiCa, the feeder pan for layers during egg production? Contact Kalvet Agro Links