Feeding system that prevents broilers from entering the pan. For clean feed that is easily accessible
This feeding system contains a few Roxell patents. Features that you will not find at any other supplier. It is these elements that make the difference for many poultry farmers around the world, as they help to improve the profitability.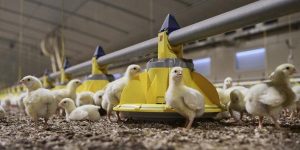 Features of the CoMeo feeder pan
feeder pan tailored to the size of day-old chicks
Feeding broilers from day one
feed flow, consistent and around the entire pan = 360°
Adjusting the feed levels
various possible feed settings
you are free to choose any type of feed, because you can simply adjust the feed opening of the pan to the type of feed. The feed volume is also easy to adjust.
Rely on the last pan, the control pan
this separate pan with sensors ensures that the feeding line and pans are filled at the right time. LED lights in the control pan encourage the broilers to also eat from this last pan. The sensor that sends the signal to refill the system, therefore, always gives a prompt at the right time.
Less maintenance
clean the pans more quickly
you can easily open the pan at certain crucial points. You are therefore able to reach the parts that require thorough cleaning. The pan automatically turns when sprayed with a pressure washer, which means you can reach all corners of the pan without any extra effort. This feature can save you a significant amount of time. This crucial element of the design was patented by Roxell.
Suitable for 3 types of housing concepts
house with floor housing
house with cage systems
house with slatted floors
Want to find out more about CoMeo, the feeder pan for broilers? Contact Kalvet Agro Links